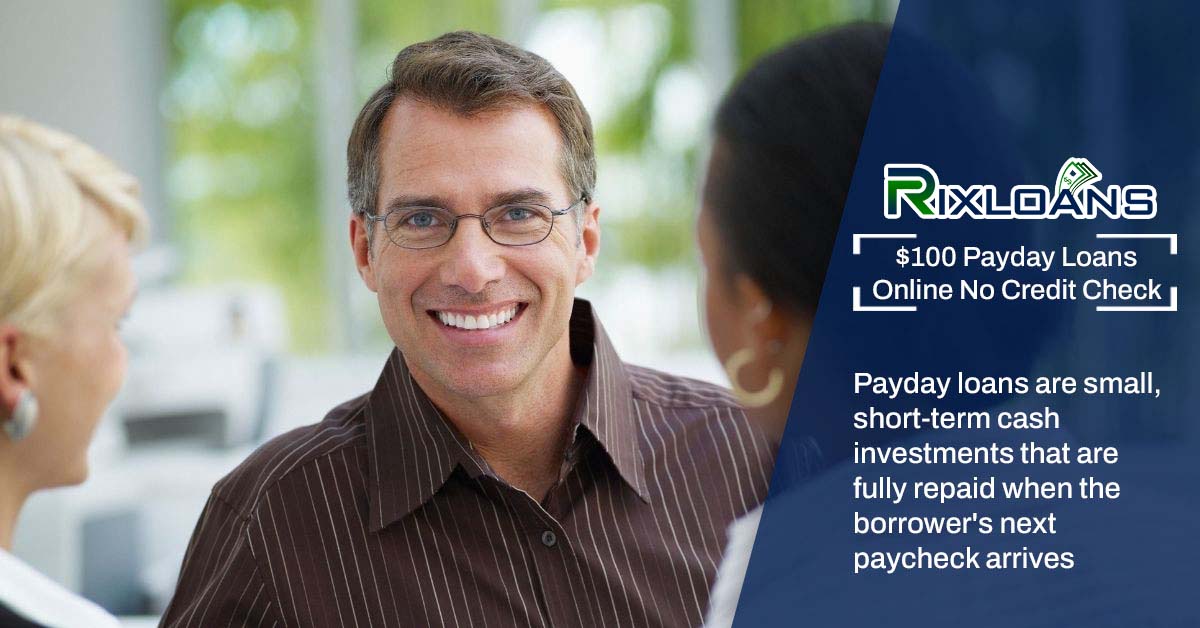 RixLoans' $100 Payday Loans Online: Instant Approval
Short-term loans, such as $100 payday loans, exist to help consumers get by until their next paycheck. RixLoans will transfer the money directly into your bank account, and you must pay it back in full, plus interest and penalties, on your next paycheck.
A payday loan is pricey and might worsen your situation if you can't afford to pay it back on time. You need to consider it carefully before picking one.
How to Get a RixLoans Loan Online?
The first step is to fill out our online loan application. It's quick and easy. You provide details, the amount you need to borrow (from $100 to $1,000), and other details. Once you submit the required information, you will receive a loan decision from RixLoans within a few minutes.
If your loan request is granted, we will contact you directly and provide you with the loan terms. Read through the terms and conditions to understand all the costs involved. If you agree, you digitally sign your agreement and collect your loan funds the following day.
Can I Get $100 Payday Loans With Fast Approval?
You will get instant approval when applying for $100 payday loans from RixLoans. Expect a response to your loan request within 90 seconds after pressing the "submit" button. Ensure to repay the loan within 31 days or on your next paycheck, depending on your state rules. You should visit your state website to learn how it handles $100 payday loans since each state has its limitations.
Why Get $100 Payday Loans from RixLoans?
The best part is that we make it easy for you to get approved for a RixLoans loan. We understand how stressful life can be when you need money fast. That's why we strive to provide you with the most convenient way possible to get the cash you need. Our goal is to help you find the best solution to your needs. We know that sometimes unexpected expenses pop up. Whether it's because of car repairs, medical bills, or other unforeseen circumstances, we're here to help. We work hard to ensure you get the best service at the best rates.
How do $100 payday loans work?
Getting a loan from Rixloans starts when you fill out our application form. Once we receive your application, we will review it and contact you to verify some information. If everything looks okay, we will send you a decision which includes all the details about how much money you'll be able to borrow, what fees apply, and any other important info. After receiving the approval letter, we immediately deposit the funds into your account.
What are the uses of 100-dollar payday loans?
Auto-repair: If your vehicle breaks down, you may need to pay for auto repair services immediately. However, this can be expensive. Fortunately, you can use a 100-dollar cash advance to cover the cost of auto repair.
Medical emergencies: Sometimes, medical emergencies happen unexpectedly. You may need immediate medical attention if you experience a sudden illness or injury. A 100-dollar cash advance can help you pay for urgent medical care.
Home improvement: You might need to fix something around the house. Maybe you want to replace a broken window pane or install new flooring. With a 100-dollar cash advance, you can afford to purchase the materials needed to complete the project.
Travel: If you plan on traveling soon, you may need to buy plane tickets or book hotel rooms. Unfortunately, travel costs can add up quickly. Luckily, you can use a cash advance to cover the expense of airfare or lodging.
What are the eligibility requirements With RixLoans?
To qualify for a RixLoan, you must meet specific criteria. The following are the minimum requirements:
Must be 18 years old
Have a steady source of income
Provide a checking account
Have no outstanding debts
Provide a valid email address
Can I get a 100-dollar RixLoans with bad credit?
Yes! At RixLoans, we recognize that people with bad credit deserve access to financial resources. We don't require perfect credit to apply for a RixLoaan. Instead, we focus on helping our customers build their credit history by making timely payments on time.
If you have had trouble building or maintaining good credit, you may still qualify for a RixLoan. Our team of experts will work closely with you to develop a customized payment plan that works for you and your budget.
What Are The Important Things To Consider Before Getting $100 Payday Loans?
It would be best if you considered these essential factors before applying for a RixLoancash advance:
How long do you intend to take to repay the loan?
Do you have any additional sources of financing available to you?
Are there any fees associated with the loan?
How much will you repay?
Do you really need the money?
When will I receive my loan if I am approved?
Unlike regular loans, payday loans are processed quickly. You may receive the loan on the same day if you apply before 10 a.m. However, not all lenders process same-day. In most cases, borrowers will receive the money in their accounts within one business day.
What Are The benefits of RixLoans payday loans?
The best thing about 100-dollar payday loans is that they are easy to get. However, when utilized wisely, 100-dollar personal loans may give several advantages. Its most significant benefits include:
It's fast and simple to apply:
Payday loans for one hundred dollars have an easy application process and speedy approval. You only need to provide the required details, and you will receive approval instantly in the comfort of your home.
100% online:
Another significant benefit of borrowing from RixLoans is that the entire process is online. You do not need to leave your house to submit the application documents.
100% confidential:
Privacy is one of the most significant benefits of taking out cash advances. Nobody except you needs to know you got a $100 payday loan. RixLoans borrowers can rest assured that their details will remain confidential and that we won't share them with any third parties.
24-hour accessibility
100-dollar payday loans are available 24 hours a day, seven days a week, online. You can visit and apply on our website whenever you need an instant loan.
High acceptance rate
RixLoans makes it simple to apply for 100-dollar payday loans online, regardless of your credit history. You can acquire a loan even if you have no credit or terrible credit. If you have no employment but an alternative income source, you can qualify for a payday loan from RixLoans.
Disadvantages
Users ought to be aware of the following drawbacks of 100-dollar personal loans in addition to their advantages:
Interest rates that are too high:
Even though 100-dollar payday loans have a flat price, this flat rate comes with a high-interest rate. You'll need to pay back the loan on time and in full to avoid further fees.
Short-term solution:
In the short term, 100-dollar payday loans are a convenient option. To prevent more credit troubles, you should have a repayment plan.
Can I get An Instant Loan Decision?
When you need money urgently, you want an answer immediately. It's not an immediate loan decision, but we do our best. After submitting your loan request, you should expect a response within 5-10 seconds, but not more than 90 seconds. It's not immediate but quick, safe, and secure! Once you receive the approval and accept the loan terms, you can get the money within 24 hours.
RixLoans FAQs
100-dollar payday loans are easy to get. They can help you improve your financial situation. But there are some common questions that you should ask yourself before taking one out.
Will I be able to repay the total amount on my next paycheck?
Understanding how much you can realistically expect to earn in the future is essential. This way, you won't end up borrowing more than you can reasonably repay. Therefore, ensure that you borrow an amount you will manage to repay on your next paycheck.
Can I afford the fees and interest rates of 100-dollar payday loans?
Several factors determine the interest rate charged on a RixLoans payday loan. These include the length of the loan, the borrower's monthly income, and other factors such as the borrower's credit score. Before applying, ensure you know how much you need to repay and only borrow an amount you will be able to repay on the due date.
What other choices do I have when acquiring some quick cash?
There are several alternatives to a RixLoans payday loan. Some of them include:
Title Loan: A title loan allows you to borrow against the value of your car. The loan is secured by the vehicle itself. It is not an unsecured loan.
Credit Card Cash Advance: Many credit card companies offer short-term cash advances. However, they typically charge high-interest rates.
Personal Loans: Personal loans are similar to payday loans. They allow borrowers to borrow small amounts of money at higher interest rates.
Home Equity Line of Credit (HELOC): Home equity lines of credit provide borrowers with a line of credit based on their home equity. Borrowers use this line to pay bills or make purchases.
Banks: Banks often offer low-interest personal loans. However, they usually require collateral.
Is this money for a one-time expense?
100-dollar payday loans are not for long-term use; you should only take them out if they are a short-term solution. If you need a cash advance for your next vacation or to update your kitchen, it might be better to find an alternative.
Tom Harold is a personal finance and insurance writer who has more than 10 years of experience in covering commercial and personal insurance options. He is also determined to beat her brother, who is a financial advisor with intimate knowledge of the field of personal finance. He devotes time researching the latest rates and rules.