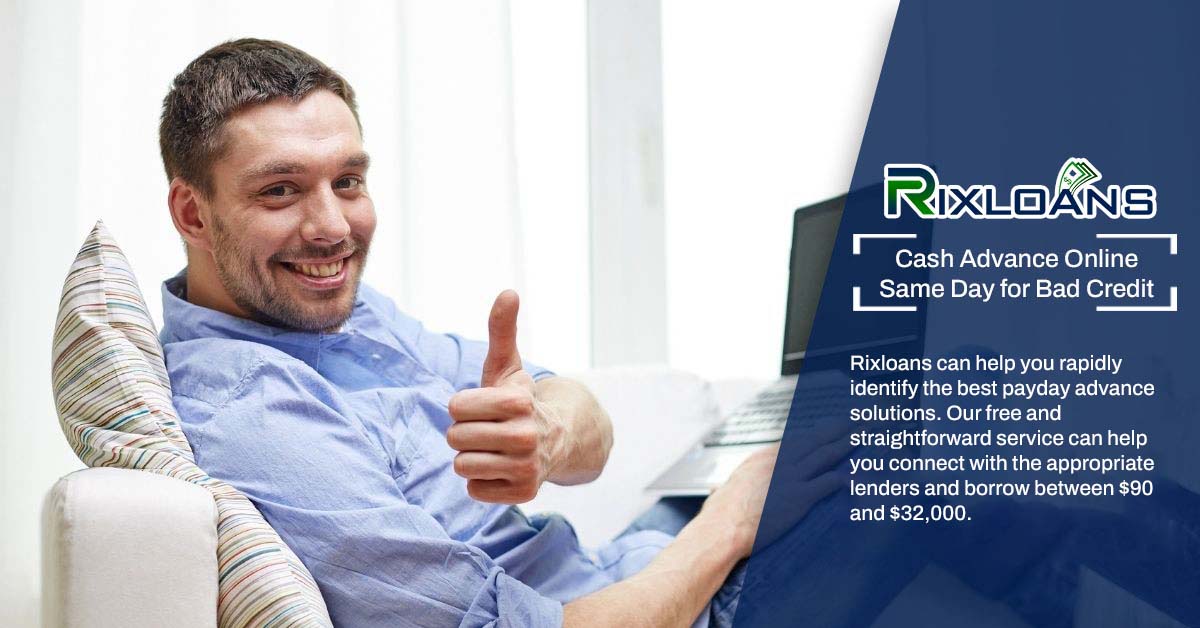 RixLoans' Cash Advance Online – Instant Approval
If you're short on cash and looking for a cash advance online, don't panic. We all have to deal with financial issues. RixLoans has a fast-fix option available.
Cash Advance Online, commonly known as Payday Loans, is the ideal solution if you only need a limited amount of money. The majority of consumers repay it the next paycheck.
Installment loans are for those who need additional funds over a more extended time. They can be paid back in a few months.
Why Rixloans for Cash Advances?
Rixloans can help you rapidly identify the best payday advance solutions. Our free and straightforward service can help you connect with the appropriate lenders and borrow between $100 and $5,000. We've collaborated with respectable lenders who have all been evaluated and verified to meet OLA requirements. Rixloans can help you find reputable lenders immediately!
Can I receive a no-credit-check cash advance?
Yes. The best thing about applying through RixLoans is that we do not perform hard credit checks on our loan applicants. We deal with many partners prepared to give loans for bad credit, so you need not be concerned about getting denied. If you meet the other eligibility criteria, you will still get a loan from RixLoans.
How Quickly Can I Get a Cash Advance From RixLoans?
When applying through RixLoans, borrowers will get approval within a few minutes. However, it usually takes 24 hours or the following day for us to deposit the money into your bank account. Our lenders will continually assess your eligibility for the product and may ask for proof of your income, credit score, and affordability before financing.
How to Use a Cash Advance Loan?
A cash advance is a short-term, unsecured loan that allows you to borrow money for any reason. You can use the funds to pay your bills, buy groceries, or even vacation. The amount of time it takes to repay depends on how much you borrow and what type of loan you choose.
The best part about using a cash advance loan is that no credit checks are required. This means you don't have to worry about having bad credit or not being approved for other loans. In addition, since these loans are so easy to get, they are also very affordable.
What are the alternatives to RixLoans Cash Advances?
If you need quick cash but don't want to take out a traditional payday loan, several options are available. Here are the best alternatives to cash advances:
Credit cards – If you're in good standing with your card issuer, then you may be able to apply for an emergency line of credit. Most major banks offer this service, allowing you to borrow up to $500 without collateral. However, keep in mind that interest rates tend to be higher than those charged by payday lenders.
Personal loans – Another option is to ask family members or friends if they could lend you some money. While this isn't as convenient as getting a cash advance from a payday lender, it's often free money. Just make sure that you pay them back before the next payday arrives.
Home equity lines of credit (HELOCs) – A HELOC is similar to a home equity line of credit, except instead of borrowing against your house, you borrow against your savings account. Many people use their homes as collateral when applying for a HELOC, allowing them to borrow more money than they would otherwise qualify for. Remember that most banks require at least two years of history of paying off debt before granting you a new line of credit.
Small business loans – If you own a small business, you might be able to obtain a small business loan. Banks, credit unions, and online lending companies typically offer these loans.
A simple guide to choosing the right cash advance option online
Ask yourself questions:
Is there a better solution than credit?
What amount of cash do I require?
When do I get my next paycheck?
What speed can I pay back the money?
The answers below will allow you to quickly and accurately decide the rates and terms for your cash advance.
The key benefits of RixLoans cash advances
It's easy to apply through RixLoans: Quickly fill out the application form and receive an immediate decision.
Same-day funding: Cash advances may be requested up to 10:30 a.m. for funds that day.
Direct deposit: Within one business day, funds are electronically deposited into your bank account.
Safety and Security: Rixloans adheres to best practices for lenders and federal payday regulations.
Our cash credits are quick and straightforward despite bank credit or financial services loans. A cash advance is a no-fee, short-term, unsecured personal loan. Verifying your credit score is simple. We provide affordable pricing with no hidden costs.
What are RixLoans' eligibility requirements?
You must be able to qualify for the loan to receive money from your bank account quickly.
18 years old (specific states, 19 /21)
Permanent resident or citizen of the United States
Do not join the military right now
Verifiable steady income
Phone number & email address
Bank account
Make informed decisions. Rixloans can help you if you need money urgently and meet your requirements.
Rixloans FAQs
Can I get an instant cash loan from RixLoans with bad credit?
Yes. You can get a cash advance online from RixLoans with bad credit. We do not rely on your credit score to determine whether to approve or deny the application. We look at other things like your income status to approve the loan.
What if I can't repay the RixLoans loan on time?
Credit rollover is always possible until you can repay. You can't get a new credit card until you have made a previous credit repayment.a.
How do I get an instant cash advance?
Open our online loan application form.
Complete the form.
The application processing time is between 5 and 10 minutes.
You can get money up to 24 hours later.
Cash Advance Online – Summary
A cash advance is an excellent short-term financial tool. Terms and conditions. Different loan products and loan amounts are available easily online. Rixloans has them all open.
It is important to understand loan interest rates and use short-term loans only for short-term money problems. We recommend that customers with credit difficulties should seek credit counseling.
Tags:
lines of credit
loan agreement
long-term financial solutions
funded the next business
Tom Harold is a personal finance and insurance writer who has more than 10 years of experience in covering commercial and personal insurance options. He is also determined to beat her brother, who is a financial advisor with intimate knowledge of the field of personal finance. He devotes time researching the latest rates and rules.