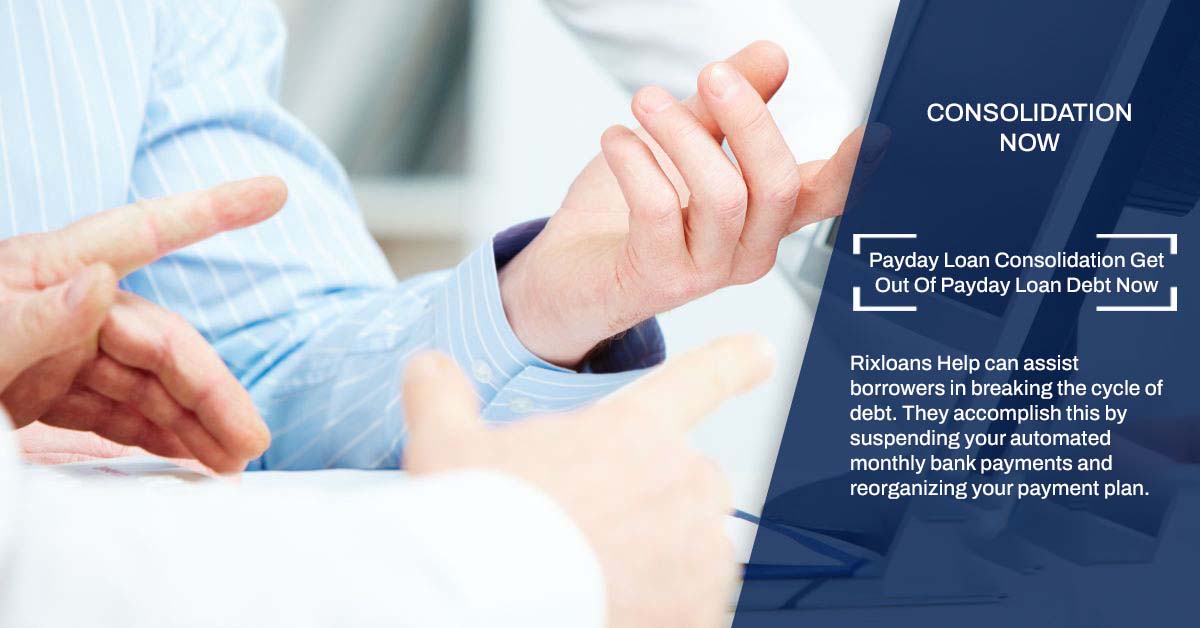 Payday Loan Consolidation: Can Lenders Help? 
Rixloans is a well-known and reputable company that provides debt consolidation and financial management services. The company focuses on helping people who are struggling with payday loans. Most borrowers cannot repay their payday loan amounts on the due date, so they borrow to pay and take another payday loan. The interest rate keeps accumulating, and their debts are high by the time they realize it. They get stuck in a debt cycle, which is almost impossible to break.
How does payday loan consolidation work?
Debt consolidation creditors help you combine several high-interest and unsecured loans into one loan. The good thing is that you will likely access the consolidation loan at a lower interest rate. This will reduce borrowers' monthly interest charges, help you to save money, and pay off your debt settlement.
The process of consolidating borrowers' payday loans is pretty simple. You need to apply for an online personal loan. You use the funds to pay off your credits when it gets approved. Then you can focus on repaying your loan.
What information will direct lenders need?
When applying for a personal loan, you must provide specific details. You will need to provide personal information such as name, contact number, and address. You will also be required to provide some financial services information. Some lenders will also ask for your pay stubs, tax returns, and utility bills.
How do I prepare for loan consolidation?
Before you decide to consolidate your debts with a personal loan, you need to review your finances. You should also develop a plan to help you stay on track. A plan will help you repay your monthly payments to be consistent.
If you don't do this, you may become worse off. If you don't discipline yourself financially, you will incur more loans. You will also have difficulty paying off your personal loan, leaving you in more debt. You may have to look at bad credit consolidation if you cannot qualify for a "normal loan."
What are payday loans?
A payday loan is a short-term loan often provided by an online or upfront store lender. This loan is usually due in 30 days or less, and the loan amount is up to $1000. Payday loans come with fees you must pay along with the loan amount on the due date.
Most lenders take post-dated checks with the total loan amount and fees with the intention that if you don't pay on time, they can request a direct debit from your bank account. Getting an online payday loan is simple and easy, but you may have many problems getting out of the debt cycle once you get in.
The qualification requirements for getting a payday loan are easy. All you need is a checking account and proof that you are employed.
What are some consolidation benefits?
Payday loan consolidation through RixLoans helps reduce the total amount you owe.
It also helps the borrower to avoid 

bankruptcy

.
Better repayment period
Consolidation puts a stop to automatic bank debits.
Most people who consolidate their payday loans pay low monthly payments.
You get the chance to improve your credit score during your next credit check.
Your goal is to be debt free.
The primary benefit of consolidating this type of loan is to help you manage your debt consolidation company.
What are the other features of payday loan consolidation? 
Lower fees
The fees on personal loan solution programs are usually lower than those on payday loans. You can pay up to 400% in interest rates for payday loans, while the rate for personal loans ranges from 4% to 36%.
Flexible repayment 
With payda loan consolidation from RixLoans, you can choose a payment plan that suits you. The loan will be spread over some months. On average, the loan term ranges from 12 to 84 months. The repayment terms for payday loans are usually 2 to 4 weeks.
The monthly payments are predictable. 
The monthly payment is spread over a period when you consolidate your debts. The payments are fixed, so you know exactly how much you will be paying at the end of the month.
Personal loan lenders care about your ability to pay the loan
The creditors that offer personal loans check to make sure that you can settle the loan before they grant you the loan. If they realize that you won't be able to repay the loan, they won't approve it.
Can payday loan consolidation affect my credit? 
This process does not affect your credit score. If you manage to complete your payments through consolidation, it will improve your credit score in the long run.
Can my lenders sue me?
Yes, they can, but they rarely do. When they are sure that you consolidated to be able to make payments, they won't. Lawsuits cost a lot of money, and they won't take that step when they know they will get their money.
Which is better – debt consolidation or bankruptcy? 
Debt consolidation is a better option because it helps you to reduce the total amount you owe, pay off your debts, and improve your credit score. On the other hand, bankruptcy is a powerful method of getting rid of your debts.
The record will stay on your credit report for 7 to 10 years. You may need to live on a tight budget, and getting a loan will also be challenging. We have put together the best consolidation loans for 2022 if you want to see them.
Can direct lenders refuse to work with a debt consolidation company? 
Yes, it is possible. The lender may prefer working with the borrower. But this is rare since lenders always look for ways to get their money back.
Payday loan consolidation VS debt settlement 
Debt settlement involves getting into an agreement with the lender so that you can pay less than you owe. In most cases, creditors agree to settlement when they realize that the borrower is in a financial crisis and may not be able to repay the loan. They do this to get back a large portion of the loan amount.
Should You Get Payday Loan Consolidation?
Payday loans are usually expensive because the fees are high. They don't require favorable terms of service, and if consumers don't take care, you will be trapped in a vicious debt cycle where you repay your loan for a very long period.
Personal loans are better than payday loans in several aspects. Personal loans usually have lower interest rates, balance services, and better terms. At least you will know the total amount you will pay at the end of each month.
Payday loan relief is easy to access, especially if consumers need cash urgently. But, if you don't take care, you will get stuck in a debt cycle.
The consumer will end up paying more fees as well. Most people take another loan after repaying the previous one because the cash they have left will not sustain them for the month. They continue this for months until they can finally squeeze some money to pay off the debt.
If the consumer gets stuck in a payday debt cycle, you can use a personal loan to combine your debt balance. The consolidated payday will help you to break free from the cycle. Let's see how this works. We will also discuss the benefits of consolidating your debts with a personal loan.
What Are The Alternatives To Payday Loan Consolidation?
Try these alternatives if you are struggling with your payday loan debts and cannot get a personal loan.
Ask for a payment extension.
Some payday lenders can increase your payment plan so that you can pay the loan in installments. This option usually comes with a fee.
Work with a credit counselor. 
Credit counseling will help you to evaluate your financial situation and help you to improve. Apart from developing a strategy to pay the debt, they will also help you to stay out of debt by helping you with budgeting.
Talk to a legal attorney.
Knowing your rights as a borrower can help you to make the best decision on your debts. You may qualify for free legal aid if you have a low income. Ensure that consolidating your debts can help you save money before opting for it.
You can also check out consolidation loans from bank of America and the national debt relief review
Tags:
payday loan consolidation companies, united states
payday loan borrowing
loan typically
credit union
loan offer
loan payments
Kimberly Chantal Parkes is a former contributor to Rixloans. Kimberly Chantal is a freelance copy editor and writer with a specialization in personal financial planning. After having graduated from Kansas State University with a bachelor's degree in journalism, she began her career in media wearing many hats for community newspapers within the Kansas City area: writer as well as copy editor, photographer and coffee runner among other things.