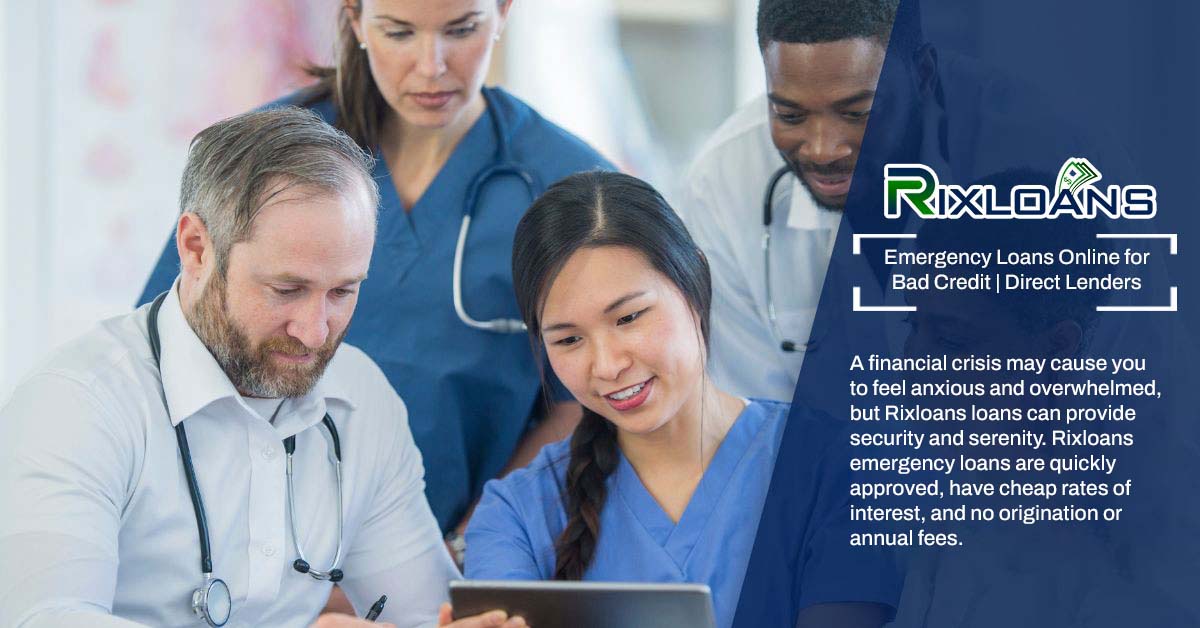 Emergency Loans Online: No Credit Check
Emergency Loans Online for Bad Credit provides a clever economic strategy to cover unanticipated expenses. You can't budget for it all. And no matter how hard you try to prepare for the unexpected, nothing can be predicted.
A financial crisis might leave you concerned and overwhelmed, but our loans can give you stability and peace of mind. Emergency loans are fast to approve, and you will get the funds you need to tend to your emergencies.
What are the best uses of an emergency loan?
A natural disaster event
A major car repair
Students pay a school fee
An unexpected visit to the doctor or hospital
Large appliance replacement
How does an emergency loan work?
Once you have filled it out and submitted it, we will contact you within a few minutes with an answer as to whether or not your application has been approved. If approved, we will deposit the funds into your bank account in less than one business day!
RixLoans is here for you when you need us most. We are available 24/7 to help you get through any financial crisis that may arise. Our goal is to provide our customers with the best service possible. That's why we offer fast approval times and deposit money directly into your checking account.
Why take out an emergency loan?
If you find yourself in a tight spot, you can apply for a RixLoans online payday loan and receive up to $1000 instantly. You don't even need to leave home to get this cash advance. Simply fill out the short form on our website and submit it. It takes only a couple of minutes to complete. Once completed, a representative will contact you and guide you through the rest of the process.
You can use the money from your emergency loans to pay off bills, cover unexpected expenses, or just save some extra cash. Whatever you choose with the money, make sure you repay the loan on time so you won't be charged late fees.
How do I go about getting an emergency loan?
The first thing you should do is visit our website at www.rixloans.com. On the homepage, click "Apply Now" and follow the instructions. The next step is to enter your information into the form. This includes your name, address, phone number, email address, employment status, monthly income, and other relevant details. Once you have entered all this information, hit "Complete Loan Request." You will receive instant feedback on whether we approved the loan or not
Where can I get an emergency loan?
We know how important it is to have access to quick funding when you need it most. We aim to achieve that by providing our clients with the fastest turnaround times in the industry. Rixloans guarantees you will receive the funds deposited into your bank account within 24 hours if you request an emergency loan.
Our team of customer service representatives is always ready to assist you with questions regarding your loan. You can contact us via live chat, telephone, and email.
Can I get a Loan if I am unemployed?
Yes, you can still qualify for a Loan if you are unemployed. All you need is to provide proof that you have an alternative income source that will enable you to repay the loan. The income may be through business or other benefits. Apply now to find out how much you can qualify for without a job.
Can I get cash Immediately?
No, unfortunately, you cannot get cash immediately. Once you apply, you will get approval from us immediately. You will need to accept the loan terms before we send the money to you. If you agree to the terms and conditions, you will receive the money in your bank account within 24 hours or less.
Do emergency loans have no credit checks?
Direct Lenders do not perform any credit checks on its customers. All applicants are given equal consideration regardless of their credit history. Therefore, if you have bad credit and cannot secure a loan from traditional lenders, consider applying today.
How to qualify for a Loan?
This means you must fulfill the following conditions in most cases:
18 years or older
You are an American citizen.
Employed or self-employed.
Ability to pay back the loan on schedule.
Have a checking account
Provide a valid email address and phone number
What Are The Pros of Emergency Loans Online?
Speed – When you apply for an emergency loan online, you can typically get the money deposited directly into your bank account within a few hours.
No lines – Unlike traditional lending, where you have to wait in line to receive your loan, you can get an online emergency loan in the comfort of your home.
Convenience – If you don't have time to drive to a physical store, you can simply log onto our website and fill out the application. It takes less than five minutes to complete.
Borrowers may use them for anything. Hardship loans are personal loans used to offset financial difficulties. If accepted, you may use the money toward almost any cost.
What Are The Cons of Emergency Loans Online
They are not cheap. Emergency loans come with extra fees, such as interest and origination fees. Savings accounts and other sources of money may mount up over time.
Which is the best emergency loan lender?
We understand how difficult it can be when you need fast cash. That's why we ensure every customer gets the best possible service. We know that you may feel like other companies are just taking advantage of your situation. But at Rixloans, we take pride in being fair and honest. We aim to help you find the right solution for your financial needs. We work hard to ensure you get the most competitive interest rate available.
Kimberly Chantal Parkes is a former contributor to Rixloans. Kimberly Chantal is a freelance copy editor and writer with a specialization in personal financial planning. After having graduated from Kansas State University with a bachelor's degree in journalism, she began her career in media wearing many hats for community newspapers within the Kansas City area: writer as well as copy editor, photographer and coffee runner among other things.