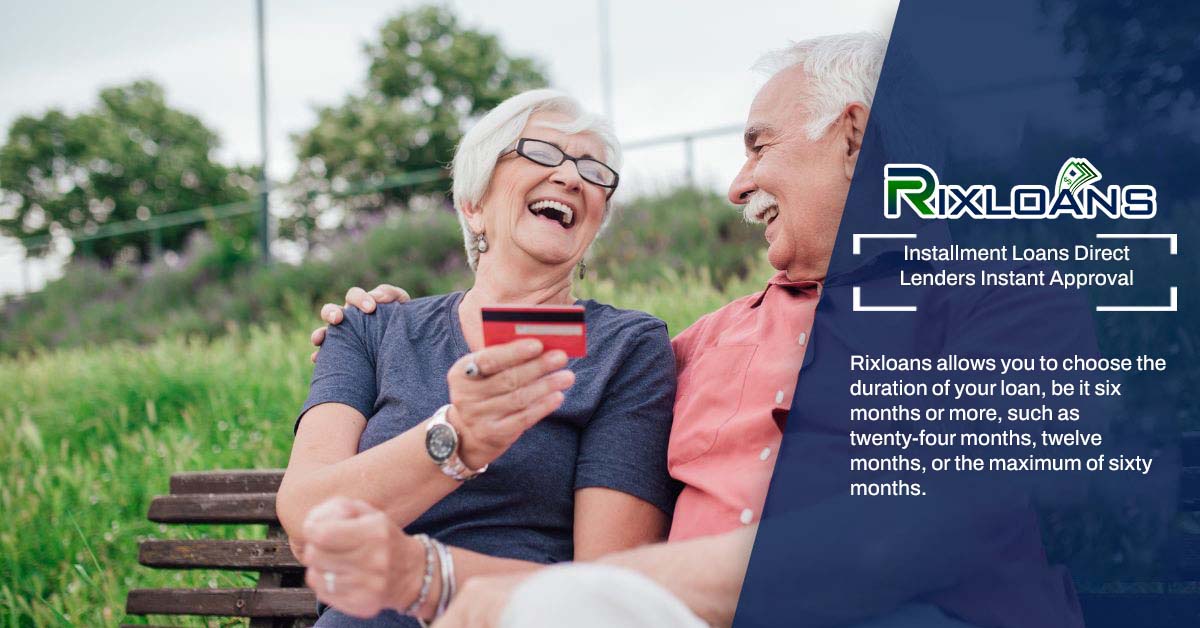 RixLoans Installment Loans Direct Lenders – No Credit Check
RixLoans' online installment loans from direct lenders allow you to repay the loan in various months or installments. The borrower can repay over a longer time to ensure their finances are in order without feeling pressured to pay the whole loan in one go, as when you take out a payday loan.
The product could be unsecured or secured per the loan amount, the duration, and the customer's credit rating.
Installment loans can only be for a few weeks or several months. Rixloans allows you to decide how long you'd prefer to borrow money, whether it is six months or more, such as twenty-four months, twelve months, or the maximum, sixty months.
How do I apply for Installment Loans from direct lenders?
RixLoans' application is entirely online, and there are no application fees. We can get you a three-month, six-month, or longer installment loan with no fees and no influence on your credit score!
Submit your application:  Completing our online application form takes less than 5 minutes.
Receive feedback: Receive an immediate decision and loan offer on-screen. To begin, simply sign our loan agreement electronically.
Get Paid: If accepted, funds might be deposited into your account within hours or the next business day.
What Are The Examples of Installment Loans?
Auto Loans
Another example is a secured installment loan, such as a vehicle loan. You borrow the vehicle's cost and pay it back in monthly installments, with interest, over two to five years. If you miss a payment, the lender may repossess your car.
Personal Loans
Personal loans are revolving loans that can be used for nearly any purpose. The loan amounts available range from $1,000 to $100,000, with repayment lengths ranging from two to seven years.
Using information such as your credit history and score, income, and other outstanding debts, a lender determines if you qualify for a personal loan and at what rate.
Unsecured personal loans are more prevalent than secured personal loans. Still, some lenders allow borrowers to utilize collateral such as a savings or investment account or a vehicle to qualify for a lower rate.
Student Loans
Student loans are installment loans since they are repaid in regular installments over time. They can, however, have fixed or variable rates.
Does RixLoans Perform Credit Checks?
RixLoans' installment loans differ from traditional personal loans because they are available to persons with poor or fair credit scores. For example, it's common for banks to run a hard credit check when pre-approving borrowers.
The online lender will execute a soft credit inquiry when doing a background check for "no credit check" loans. Credit scores play a role in whether or not you are approved for a loan. However, the interest rates and costs charged by the loan will be influenced by your credit score.
Can I Get a RixLoans Installment Loan With Bad Credit?
Yes, since we do not require to perform a credit check on our applicants, people with bad credit can qualify for our installment loans. Therefore, if traditional lenders cannot approve your loan due to bad credit, you can contact us for help.
Are there monthly payments on an installment loan?
Yes. With an installment loan, you make regular payments each month. Each payment covers a portion of the total amount borrowed. For example, let's say you borrow $1,000. Your lender would calculate how much you owe using a simple formula called "principal plus interest." Principal refers to the original amount you borrowed. Interest is calculated based on the number of days you took out the loan. So, when calculating your monthly payment, your lender adds up the principal and interest owed and divides it by the number of months left until the loan is paid off.
What are monthly Deductions from my bank account?
The interest rate and costs are included in the loan's APR. It is the entire cost of the loan over a year. It would help if you chose lenders with the lowest APRs to save money.
Payments made toward your loan are deducted directly from your checking account. When making a payment, your lender sends a check to your bank. That check is deposited into your account. As long as you have sufficient funds in your account, the deposit clears immediately.
Benefits of RixLoans Installment Loans
Lenders can change loan terms at any time.
Depending on the bank, personal loans usually have a minimum term of 12 or 24 months. However, you can get a short-term installment loan online that you can pay back in three months. Long-term installment loans with periods of up to 60 months are also available.
Online lenders aren't as strict as traditional lenders.
Online lenders recognize that their distinct advantage over banks is in their freedom to customers. Furthermore, they are not hampered by stringent lending laws. As a result, they make riskier loans.
It's good for quick cash.
It's critical to locate finances quickly when a personal crisis strikes. The application steps will take you only one business day to complete. They entail applying for a loan, being authorized, sending needed documents, and electronically signing the loan agreement.
Technology is readily available.
Internet lenders keep ahead of the curve by providing customers with various online tools. For example, getting a user portal after joining a lender is now standard. Others offer mobile apps that allow you to manage your account, view scheduled payments, and even make payments.
They follow regulations
Online lenders don't operate in the same way as loan sharks do. They follow federal lending regulations and norms.
They receive the necessary licenses before lending loans in any state. Most of them have also made their sites as user-friendly and safe as bank websites. As a result, customers will have a secure and pleasant borrowing experience.
Disadvantages of installment loans
They're quite tempting.
You see something you want but don't have the funds to buy it, such as new shoes." Because payday-installment loans are so simple and come with few restrictions, it's tempting to take out a loan and pay it off in three months.
Money is automatically deducted from your account.
Borrowers must set up automatic payments with the majority of online loan firms. Most online businesses choose to check accounts since they allow for automatic debits. Payments on auto loans aren't all awful!
They can help you avoid the stress of failing to pay your loan on time. You're at risk when you don't have enough money in your account. If the lender tries to charge your account, but the transaction fails, the bank may charge you $35 in NSF costs. It raises your expenses.
High APRs
You should only take out online payday installment loans if you have no other options. We recommend starting with lenders who have lower APRs.
Alternatives to installment loans
Peer-to-peer lending
This is a type of lending where people lend to each other. The average American offers peer-to-peer loans. They are rarely the result of a loan company's efforts. A peer-to-peer loan is when you borrow money from your friends.
Various platforms, for example, have made it easier to execute these loans by allowing parties to set up automatic repayments. You can even get a peer-to-peer loan from someone you've never met before.
Credit cards with no annual percentage rate
These cards are interest-free for a set period to convert you into a paying customer.
They're used by businesses to entice new customers. But be cautious when signing up for them. You never want to be late with a payment. The credit card company will charge you a penalty APR if you do.
Consider joining a credit union.
Credit unions bring people together who share a shared interest. They could be coworkers, residents of a particular neighborhood, or graduates of a specific university.
Members with weak credit make up certain credit unions. You'll have access to the same goods that banks and online lenders offer, only that they are available at a lower cost.
Boost your earnings
It's both a short- and long-term plan. You can, for example, work in the gig economy. The new designation you receive as a result of furthering your study could lead to a promotion.
Seek rental aid or financial support.
There is no shame in asking for assistance. And you can get the help you need in a variety of places. For example, you can join the Housing Voucher Program to get money to pay your rent.
What if you can't repay your installment loan?
You won't go to jail for not paying a civil debt. But there are consequences. You will be sold to collection agencies by your lender.
There will be grim recovery procedures by collectors. Others come to your door and question you. However, Neither you nor your coworkers or family will be harmed. Some businesses pursue criminal charges for fraudulent checks.
Can I get Guaranteed Installment Loans?
None of us can be sure that a loan will be paid back. The chances of getting the cash advance online are much better because the lender doesn't check your credit history when you get it online. It makes it easier for them to let most people in.
Often, people call a $1,000 loan a "1,000 dollar loan with 100% approval." However, lenders decide based on a set of rules they must meet.
How fast will I get my RixLoans installment loan?
You can apply for an installment loan online with Rixloans in less than 5 minutes. Our entire loan application is 100% online and requires basic information, including your name, age, residence, location, income, expenses, how much you would like to borrow, and how long.
You can apply 24 hours a day, seven days a week, on a desktop, laptop, or mobile. Subject to further checks and approval, you can get money into your bank account within a few hours or the next business day.
What are the Eligibility Criteria for RixLoans Installment Loans?
A steady income
Able to afford monthly repayments
Over 18 years of age
No recent bankruptcy
Have a live checking account to receive funds
Valid cell phone and email address to verify your loan
Be a US citizen.
Kimberly Chantal Parkes is a former contributor to Rixloans. Kimberly Chantal is a freelance copy editor and writer with a specialization in personal financial planning. After having graduated from Kansas State University with a bachelor's degree in journalism, she began her career in media wearing many hats for community newspapers within the Kansas City area: writer as well as copy editor, photographer and coffee runner among other things.