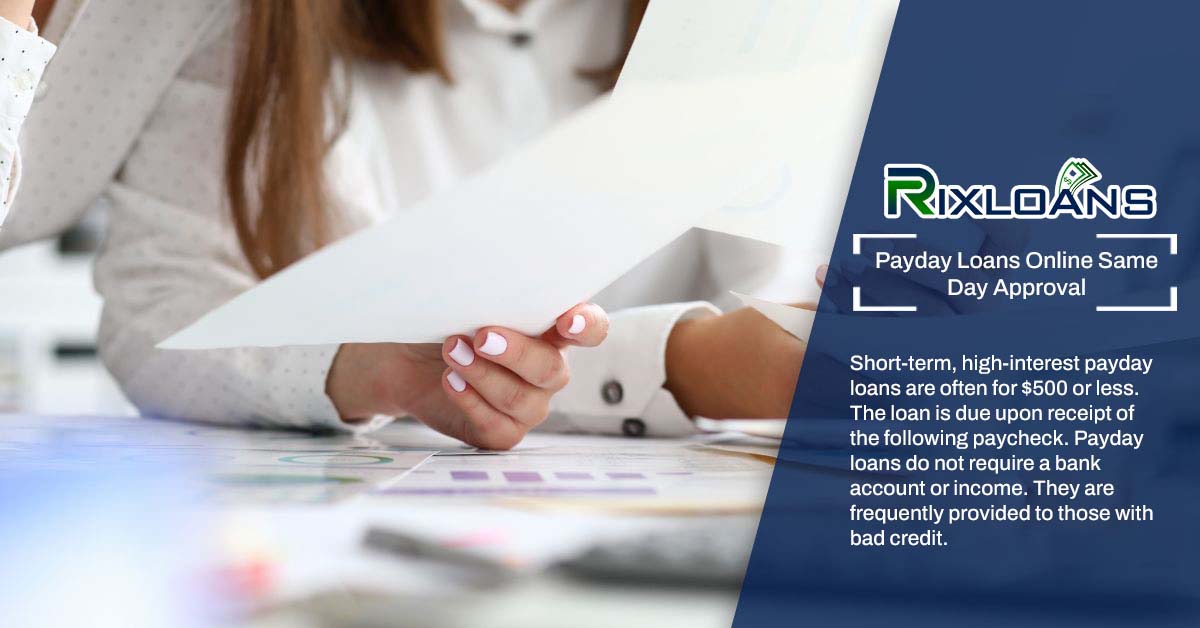 RixLoans Payday Loans Online: No Credit Check
Payday loans online are short-term, high-cost loans, and you can borrow up to $1000 or less. Borrowers must repay the loans with their next paycheck. Since payday loan lenders do not perform hard credit checks, borrowers with bad credit can take advantage of these loans.
Can I Get a Bad Credit Loan From RixLoans?
Yes. To get a payday loan online, you don't need excellent credit. If you have a steady income and meet all other eligibility requirements, you can get a payday loan from us with bad credit.
How Does RixLoans Send Cash?
Payday lenders like RixLoans would verify your income, check account information, and then deliver cash within 24 hours. The lender will request a signed check or authorization to withdraw funds from your bank account electronically.
Borrowers must repay their loans within two weeks or on their next payday. Sometimes, it can take up to one month.
What are the costs of RixLoans' payday loans?
Depending on your state, a payday loan will cost between $15-$30 for every $100 borrowed. Check with your state regulations to determine the maximum and minimum amounts you will pay for a payday loan. Also, before applying, contact us for more information about your loan's interest rates.
What are the requirements for obtaining a payday loan from RixLoans?
A valid bank account and proof of income, such as a payslip, are required to qualify for a payday loan. You must be 18 years old and have a valid Social Security Number (SSN). Also, you need to have a stable income to repay the loan. We also do not approve loan requests from people who already have other outstanding debts with us.
How Can I Get a RixLoans Payday Loan Instantly?
Fill out our online application form to apply for a quick payday loan. We provide instant loan approvals, and borrowers can apply at any time. Once you agree to the terms and conditions of the loan, we will send the money to your account within 24 hours or less.
Are There Any Legitimate Online Payday Loans?
Yes, many online payday lenders are legitimate, even though few tend to operate unlawfully. A genuine payday lender must have a license to use and lend money in your state. You should avoid doing business with a company with no valid claim. It's unlikely they'll follow state regulations designed to safeguard you if it's not permitted in your state.
How to Get a Payday Loan Online at Rixloans?
Getting a loan at Rixloans is pretty straightforward. To receive your loan, you will need to follow the below simple steps:
Submit your online application or call us now.
Receive quick approval with our impeccable customer service.
Get cash on the same day or the next business day.
Do You Offer Online Payday Loans for Emergency Expenses?
Rixloans provides emergency cash loans, with money accessible in as little as one business day if authorized. Poor or terrible credit is not an obstacle to applying because we do not perform credit checks when receiving loan applications. After submitting the required details, we will contact you immediately to let you know how much you qualify for.
How can I use a payday loan?
To replace misplaced or stolen valuables.
Most of us have access to our computers or laptops in this digital age. When stolen or lost, getting a replacement right away can be the difference between working and not being able to work. A payday loan will help you to replace these items immediately.
Utility Expenditure
If you do not pay your bills on time, your services will be switched off. However, the fines, fresh deposits, restart fees, and other costs that come with late payments will only make matters worse. In some situations, these can amount to hundreds of dollars. To avoid these, you need a payday loan to help you cover the costs instantly.
Medical expenses
Unexpected illnesses and visits to the hospital are more common than ever before. Frequently, your insurance will not cover all or part of a visit or procedure. Some medical facilities even request payment in advance for some or all of your visits before they will see you! In such a case, you need a place to get quick cash, and payday loans will help.
Does RixLoans Offer No Credit Check Loans?
Yes, we do offer no credit check loans. The application process for a no-credit-check loan is simple, and you can do it online or over the phone. If you cannot acquire a plan from your bank due to your bad credit, you can count on us to help you.
When working with a forward-thinking lender like Rixloans, you will receive your bad credit loan within less than 24 hours and tend to your financial emergencies.
How to Get Approved for a RixLoan?
Always have a valid reason for your bad credit payday loan. Most lenders will inquire about your plans for the loan. You are likely to be rejected if you apply to take a trip or holiday.
Be prepared to answer questions about your objectives if you apply for a payday loan online. Always use only what you genuinely require; asking for more is a risky technique that could backfire. Make sure you can return your online payday loan on schedule.
Who Are Direct Lenders?
A direct lender will give you a loan without going through a third person. You should contact a direct payday loan provider if you have an emergency and need cash as quickly as possible. Such a lender simply processes payday loan requests within their firm and does not share personal information with other lenders.
Remember, direct payday lenders only provide short-term loans, not long-term financial solutions. It's one of the most convenient methods for obtaining short-term financial assistance with immediate approval.
What Are The Payday Loan Regulations?
States are aware of the potential debt that payday loans can cause, and each has its own rules. Depending on your state, the restrictions can be somewhat diverse. State-by-state restrictions on repeat borrowing, waiting periods between loans, and loan limitations, among other things, varied. Payday lending has been forbidden in some states.
I am unemployed – Can I get a Loan From RixLoan?
Yes, unemployed people can acquire emergency loans. Some lenders will evaluate your application even if you don't have a job or revenue from a job. All you need to price is that you have another stable income source. It could be income from your business or other benefits.
What is the maximum amount I can borrow from RixLoans?
Per location, USA State rules will determine how much you can borrow. It also depends on your financial situation. Payday lending is allowed in most states, with interest rates ranging between $15 to $30 for every $100 borrowed. You can check your location laws on payday lending.
The loan company will consider your income when determining how much money you can borrow. However, this does not mean you will get the maximum amount permitted by law.
Can paying off payday loans improve credit?
Payday loans online are not a way to build credit. Payday lenders aren't required to report payments, so they will not affect your credit score & history. However, if you fail to repay the loan, it may affect your credit score. Payday lenders may sell your loan to debt collectors who may report you to credit agencies.
I am unable to repay my RixLoan -What happens?
If you cannot repay your RixLoan payday loans, we may be able to help you out. We offer several different solutions for those who need assistance repaying their loans. Our repayment plan options include. You can allow us to extend the due date by 30 more days. This is an excellent solution if you cannot make payments on time.
What Are The Payday Loan Alternatives?
You can use an app that offers interest-free cash advances. Several mobile apps can provide interest-free advances up to two days before your paycheck. Still, there are certain eligibility requirements and limits on the amount you can borrow.
A personal loan can be obtained from an online creditor
Credit unions offer the lowest rates for bad-credit applicants, but you'll need to be a member. However, rates could be higher. Online lenders can also be used to fund bad credit borrowers.
Ask your bank if they offer a small-dollar loan. Small-dollar loans are now being offered by mainstream banks to cover emergencies. U.SA
Money from a friend. You may be able to find the money through a loved one. This will help you save money on interest and won't require you to go through a credit check.
Reach out to your local community organization. You can find local and regional organizations that offer free funds to help you cover your essential expenses. NerdWallet has a list of local options for payday loans that you can check to see what is available in your area.
A pawnshop loan or credit card cash advance could also be an option. These options may have lower interest rates than payday loans, but they can still be expensive.
Start building an emergency cash/fund once your immediate cash crisis is over. You will repay the lender if you can save a little each month.
Kimberly Chantal Parkes is a former contributor to Rixloans. Kimberly Chantal is a freelance copy editor and writer with a specialization in personal financial planning. After having graduated from Kansas State University with a bachelor's degree in journalism, she began her career in media wearing many hats for community newspapers within the Kansas City area: writer as well as copy editor, photographer and coffee runner among other things.