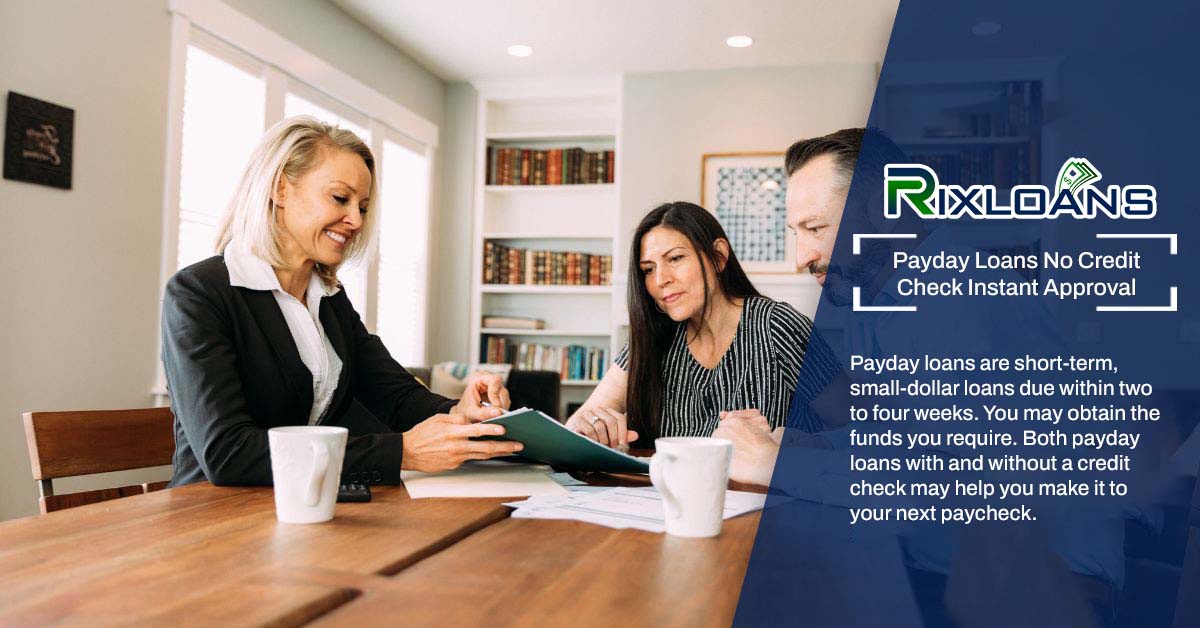 Payday Loans No Credit Check
Payday loans with rapid approval are an excellent alternative if you have bad credit and need money before your next payday. If you have terrible credit, you may ask if there are no credit payday loans. Let's examine how payday loans function without a credit check, their advantages, and the downside of payday loans.
How do payday loans work?
Payday loans are modest monetary loans that are repaid within two to four weeks. You may get the money you need to handle your financial emergencies. Payday loans, both with and without a credit check, might help you get by until your next paycheck arrives.
Will Lenders check my credit?
No. We do not perform hard credit checks when reviewing your loan application. Instead of looking at your credit score, we look at other things to determine if you can repay the loan or not. To get approval, ensure that you have a steady income source such as a business, employment, or if you have benefits.
Do I need good credit to get a no-credit-check payday loan?
Payday loans with or without a credit check do not need strong credit. Many lenders have lenient credit standards and lend to clients of all credit levels. So even individuals with bad or good credit may acquire a payday loan.
Can I get instant payday loan approval?
You may acquire instant payday loan approval, even with low or fair credit. You may apply online and get a decision in a matter of minutes. If your application is accepted, you may expect to get your money within 24 hours or less, often even on the same day. Make an appointment with Rixloans to discover more loan options.
If you have good credit, you are considered someone responsible for the money. The opposite is true for people with bad credit.
Luckily, you don't have to struggle with online payday loans. Online lenders do not consider your credit report score when making a lending decision. There are benefits and also drawbacks associated with payday loans.
How to Get a Payday Loan with No Credit Check?
Get a no-credit-check payday loan by following the below steps:
1. Evaluate lenders and loans
Look for lenders that provide no credit check payday loans. Then compare lenders and lending choices to discover the best deal for you.
2. Gather all required paperwork
Ensure you have the required documentation and information. This may contain a driver's license, a bank statement, and evidence of income. You have to be a minimum of 18 years of age.
3. Submit the documents
Apply for a payday loan in person or online, supplying all personal and financial information. Before submitting your application, double verify that all information is correct.
4. Receive approval
Once submitted, your payday loan application will be approved. Many lenders provide quick approval, so you may know whether you're authorized in minutes.
5. Get paid
Lenders will deposit the money in your account the same day or within 24 hours if authorized for a payday loan. Then cover necessary and emergency costs.
What are the benefits of payday loans?
Some people might shy away from applying for payday loans. But some benefits make the loans worth considering. They are also known as cash loans, cash advances, and personal loans. You can apply for money up to $1000 from online payday lenders. The following are some of the advantages of using this type of loan. You can also see we were featured on this KSBH news channel recently
Get instant funding.
Payday loans can be handy when you have a financial emergency. If you apply for the loan early enough, you can qualify for same-day funding. But if you use it after the cut-off time, you will likely get the funds the next day.
You can apply online.
You can easily apply online at any time of the day. Whether you are in the office or at home doesn't matter.
Several reasons discourage people from applying for bank loans. One of them is the long queues. Besides, you have to wait until lunch break or when you are free to go to the bank. You cannot afford to queue in a bank for long hours during a lunch break if you are employed.
Increasing loan amounts
Do not expect to qualify for large loan amounts when you are a first-time applicant. If you work with a specific lender and keep paying on time, you may get certain benefits, like an increase in the principal amount or a reduced interest rate. Some lenders can even offer both as a token of appreciation.
Confidentiality
No one would want to expose their personal information. ConsolidationnNow protects the privacy of its customers. When you apply for payday loans with us, ensure that your information is in good hands.
Perfect for emergencies
We know that most people apply for loans when they have an emergency. After all, this is the reason why these loans were developed. For this reason, it only takes a short time to apply and get approved for payday loans. Once you use it, the loan can be approved in minutes.
Available for people with bad credit
Many people who apply for payday loans tend to have bad credit. The main reason is that their credit scores can't be accepted in traditional financial institutions. Lenders don't care about an applicant's credit history. It is your current finances that determine loan approval. If your lender is satisfied that your income is sufficient to pay back the loan, you will stand a higher chance of approval.
What are the features of payday Loans?
When applying for loans, your information is protected against third-party access. Since the loans are used online, it is easier for applicants to get the money they need on time. Additionally, people who apply for payday loans have a higher chance of acceptance than bank loans, and the loans do not have any hidden charges.
Adding to the fact that you can use the loans for any reason, then is no doubt that they are an option worth considering.
     No middlemen involved
     Easy to apply
     Reliable
     It can be handy in cases of emergency
Most people apply for loans to pay unexpected bills, house rent, or emergency repairs. The downside is there could be high fees when they check your credit and see that it is poor.
Alternatives to payday loans
There are other options from Rixloans that you can also consider when an emergency arises. These include the following;
Installment loans
Loans that are paid in equal monthly installments.
Title loans
When applying for a title loan, your vehicle acts as collateral for the loan. You can, however, continue using the car even after your loan is approved.
Signature loans
You can also qualify for signature loans even with bad credit.
To summarize
Payday loans are one of the best options when facing a financial emergency. Of course, expect the interest rate to be higher than credit unions and bank loans. This is due to the risks that lenders put themselves in when issuing these loans.
Whether you have a poor credit history or no credit, you can still qualify for payday loans. Thanks to the benefits discussed above, online payday loans are among the top options for consumers with bad credit. They are a perfect alternative to bank loans with extended hours of waiting and stringent requirements.
Kimberly Chantal Parkes is a former contributor to Rixloans. Kimberly Chantal is a freelance copy editor and writer with a specialization in personal financial planning. After having graduated from Kansas State University with a bachelor's degree in journalism, she began her career in media wearing many hats for community newspapers within the Kansas City area: writer as well as copy editor, photographer and coffee runner among other things.