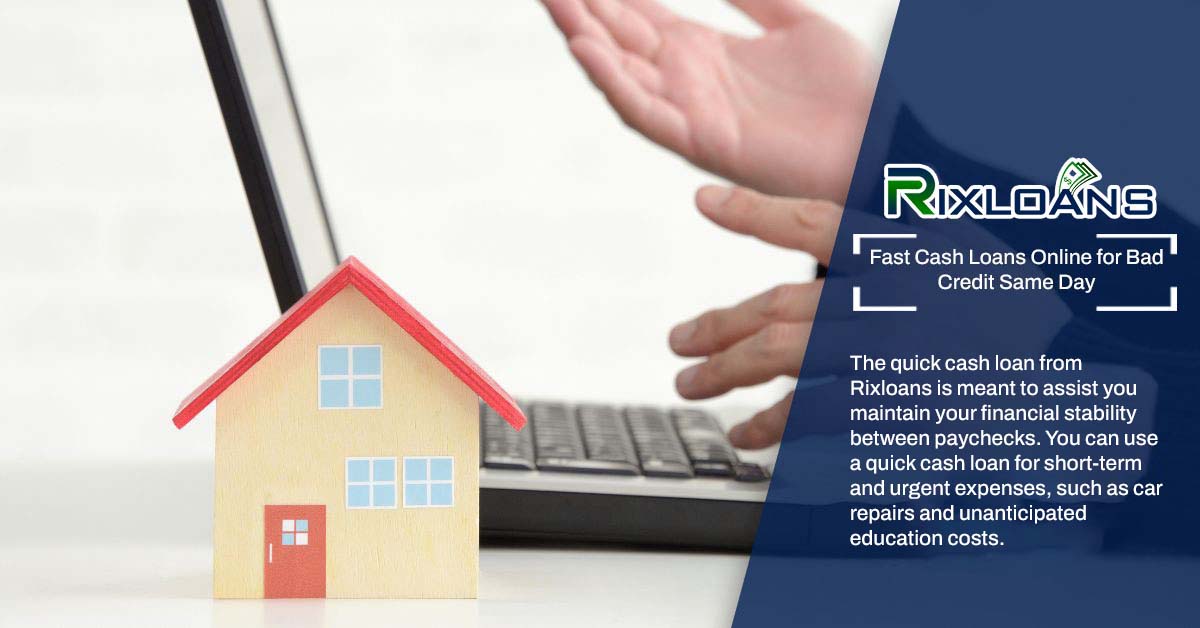 RixLoans Fast Cash Loans: No Credit Check
Fast Cash Loans Online for Bad Credit Same Day; Maximum loan amounts are based on your income. Although these loans can provide emergency financing, they have higher APRs. You and the payday loan lender will agree on installment payments to repay your loans. If you need a fast cash loan, look no further than RixLoans.
What Is A Quick Cash Loan From RixLoans?
Rixloans' quick cash loan is designed to help you stay afloat financially between paychecks. You can use a fast cash loan for short-term and urgent necessities like auto repairs, unforeseen school expenses, emergency funds, gifts for a surprise wedding, or medical emergencies.
As a short-term loan, a quick cash loan is intended to be repaid quickly within a few weeks. Another distinction is the expedited application and approval process.
Who Can Apply for Quick Cash From RixLoans?
Check the following criteria to see if you are eligible for a short-term loan from RixLoans:
You must have a current checking account /savings account.
Ensure that you have a stable source of income.
Have a working phone number and email address.
You must be a legal resident of the United States and have a valid photo ID.
Be at least 18 years old.
How long does it take to complete a RixLoans loan application?
Applying through RixLoans will get the financing you need within a few hours. The online application process is quick and easy. You can complete the online application within a few minutes. Once approved, RixLoans will send the money to you within 24 hours or less.
How much can you borrow with a cash loan from RixLoans?
With payday loans, customers often require and receive between $100 and $1000 in cash, and with installment loans, they can receive up to $5000. Please remember that each state has rules and regulations governing the maximum amount you can borrow from a loan. Before deciding on the amount you wish to borrow, we recommend you check your state's payday lending laws.
What types of loans do RixLoans offer?
RixLoans offers a wide range of fast loan options. After you choose the state where you live, you will be informed about the available loan products. Please read your loan documents before signing to thoroughly understand the terms and conditions.
Here's a brief description of each type:
Payday Loans – These short-term loans are perfect if you need emergency funds, as they have fixed repayment terms. You must pay back the principal amount plus interest within two weeks. The maximum loan amount varies depending on your state of residence but typically ranges between $100 and $1000.
Installment Loans – This option might be more suitable for you if you don't require an urgent cash infusion. With these loans, you make regular payments to repay the principal sum over time. Depending on the loan term chosen, you may repay the entire debt or just part.
Auto Title Loans – This type of loan allows you to borrow against the value of your car. You will only be able to use the vehicle as collateral, so there is no risk of losing access to your other assets.
Personal Loan – A personal loan is designed to help you consolidate high-interest credit card bills and other unsecured debts. It also improves your overall credit score by paying off existing debts.
What You Need To Know About RixLoans' Payday Loans
Taking up a payday loan is another alternative for quick cash. Although this type of loan is similar to a cash advance, the two are not the same. You are given money to pay your bills immediately after getting a payday loan. You can use the money to pay off your car repairs or tend to your financial emergencies.
This type of loan is beneficial because it does not require you to submit any paperwork or undergo a background check. All you have to do is submit the online application. The easiest way is to apply online, which is fast and safe.
How can I receive instant loan approval from RixLoans?
We recommend applying for a payday loan through our website if you need money fast. We offer loans up to $1000 at competitive rates. All you need to do is fill out our quick application form, and we'll send one of our representatives to review your request.
When you apply for a loan through a brick-and-mortar lender, the procedure can take a long time. The process will take a few minutes if you complete everything online through Rixloans.
What are the benefits of RixLoans cash loans?
When looking for cash loans, it's easy to understand the benefits of taking out such a loan. To begin, cash loans are available in quantities up to $1000.00, and borrowers can receive them in as little as one working day.
The borrower is awarded a cash loan based on proof that they will be able to repay it with a forthcoming paycheck. Lenders can rapidly grant payday loans to everyone.
Consumers with poor credit are not prohibited from applying and receiving approval. As a good-faith gesture and a manner of securing the loan transaction, a borrower may be required to write a post-dated check for the payday loan amount, plus costs, and provide it to the lender.
The cheque will deduct the loan debt from a future payroll check deposit. Furthermore, people who cannot make the required payments by the agreed-upon due date may be eligible for loan extensions.
When applying for payday loans, the process is also straightforward. Online applications are quick to complete and take just a few minutes. Depending on whatever payday loan lender you work with, you may or may not be required to provide additional proof.
Do I get my cash on the same day?
It is possible. The average time it takes to obtain funding is one business day. Remember that the earlier you apply in the morning, the better your chances of receiving a loan the same day.
How much can I get with a RixLoans cash loan?
Customers typically require between $100 and $1000 in cash through payday loans. Borrowers should know that each state has laws and regulations on what amount of money they can receive from loans. We suggest you review your state's payday lending laws before deciding the amount you wish to get.
Can I get a RixLoans payday loan with bad credit?
Yes! After you've submitted your application, you'll have to wait for a response from RixLoans. You have the opportunity to receive fast loans on the same day with bad credit. Once you acknowledge the mutual arrangement, a lender will fund your bank account or debit card.
Who should consider RixLoans cash loans?
In between paychecks, unexpected expenses and income fluctuations can result in a temporary need for short-term help with medical bills or auto repairs, food, rent, utility bills, or other household expenses.
Most loan applicants have used short-term loans to cover moving, vacation, and funeral expenses. Cash loans should not be used to meet short-term financial obligations. RixLoans does not recommend taking out a payday loan online to pay off credit cards or secured or unsecured debt. Before accepting a loan offer, check loan rates terms.
Kimberly Chantal Parkes is a former contributor to Rixloans. Kimberly Chantal is a freelance copy editor and writer with a specialization in personal financial planning. After having graduated from Kansas State University with a bachelor's degree in journalism, she began her career in media wearing many hats for community newspapers within the Kansas City area: writer as well as copy editor, photographer and coffee runner among other things.