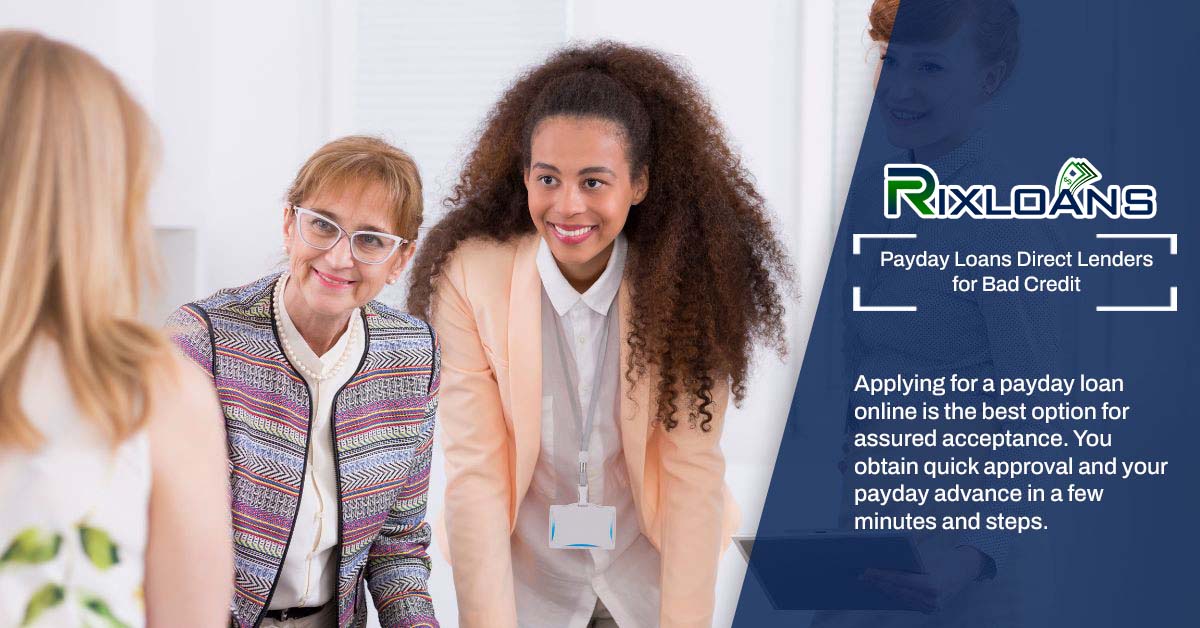 RixLoans Payday Loans Direct Lenders: No Credit Check
A No Credit Check Loan from a direct lender is a short-term loan where the lender doesn't require any proof of income or employment history. The borrower must be able to meet the direct lender's eligibility requirements. Payday loans direct lenders are ideal for those who don't have a perfect credit rating.
These lenders deal with borrowers who have minimal information about them. Direct lender loan applications are processed extremely instantaneously. Most borrowers will receive their money within 24 hours or less.
What are RixLoans' Payday Loans?
A RixLoans payday loan is a short-term loan of $1000 or less, usually repaid on your next paycheck. Depending on state regulations, borrowers may obtain payday loans in person or online.
Payday Loans Direct Lenders: Same Day Guaranteed Approval?
When you apply for a payday loan from RixLoans, you are guaranteed to get instant feedback for the application. However, this does not mean that all applicants will get guaranteed approval for their loan applications. You have to meet all the eligibility criteria to gain approval. To apply for a payday loan from RixLoans, follow the steps below:
Request a payday loan
The application form is on our website. You must submit your data, bank account information, and loan amount. Double-check the facts and proceed with the request for guaranteed payday loans online! Applying through RixLoans does not impact your credit score.
Receive approval
Once RixLoans receives your loan request, you will get instant feedback to let you know if the loan is approved or not. If approved, read the terms and conditions of the loan carefully.
Sign the loan contract
If you have any questions regarding the terms and conditions of the loan, contact RixLoans immediately. Our customer service team is always ready to respond to any concerns you may have.
Get the cash
After this, you usually get paid the same day or the next working day. If RixLoans approves your request before noon, you usually get the money on the same day.
Pay it back!
You must repay the loan by the due date. RixLoans will automatically deduct the required amount from your account unless otherwise authorized. You must have sufficient funds to repay the loan and avoid late penalties.
How much interest does RixLoans charge?
The answer to this question depends on which state you reside in. Generally, borrowing $100 from a payday lender incurs between a $15-$30 fee. Payday loans have an annual percentage rate (APR) ranging from 391 percent to above 521 percent, the same as credit cards, mortgages, auto loans, etc.
What are the characteristics of direct lender loans?
All direct lender loans have the following five characteristics:
There are no credit checks.
The odds of acquiring one of these loans from RixLoans are the same whether you have excellent or bad credit. Unlike banks that use credit checks, most payday loan direct lenders will consider other things before accepting or denying your application.
There are no third parties involved.
You will not incur extra fees to pay the payday loan broker by dealing with a direct lender. You only need to pay what you agreed with the payday lender. However, the lender may charge you extra fees if you delay making your payments.
What Are RixLoans' Payday Loan Requirements?
There are several requirements you need to meet before getting a direct lender loan:
You must be at least 18 years old.
If you are younger than this, RixLoans will not accept your application. You may need to talk to an adult and have them apply on your behalf.
An Open And Active bank Account.
Most direct lenders do not accept prepaid debit cards either. If they do, you must link the card to your checking or savings account before they can get it.
Have a Steady Income Source
To qualify for a loan from RixLoans, you must prove that you have a stable income source. It is what will guarantee the company that you will manage to repay the loan.
Contact Details
RixLoans will also need to contact you whenever we need to provide you with your loan updates. Therefore, we will need your contact information, such as your email address, phone number, and physical address.
What Are The Pros of Rixloans' Direct Lender Loans?
You can get your money much faster.
When you apply from RixLoans, you will get your loan approval within a few minutes. If you accept the loan's terms and conditions, we shall send the money to your bank account within 24 hours or less.
It's an easy way to get money.
Most people who fail to get loan approvals from banks can easily acquire payday loans. The requirements to qualify for a payday loan are not strict compared to traditional lenders.
You don't have to be employed to receive a loan.
Whether employed or not, you can still qualify for a payday loan from RixLoans. If you prove that you have another regular source of income, you will qualify for a payday loan.
Bad Credit Allowed.
Your bad credit record won't be either as long as you prove that you can repay the loan and have a checking account.
Cons of payday loans direct lenders
High fee charges
Late fines, rejected checks and bounced checks can quickly add up. Therefore, before applying for a direct lender payday loan, ensure that you can repay the loan on time to avoid late fees.
Short loan term
You are only given a certain amount of time to repay your loan before additional fees. This is around 30 days.
Does RixLoans Perform hard Credit Checks?
No, payday loan lenders do not perform hard credit checks. We only perform soft credit checks to determine if you will manage to repay the loan or not. Unlike hard credit checks, soft credit checks do not affect your credit score.
What else to look out for when applying to borrow money online?
When contemplating taking out your first cash advance personal loan, you should know specific facts.
You may already know some of them, like your income, but others, like your credit score, you'll need to research before applying for a loan. The following are some of the things you need to know before applying.
How much interest will I pay?
Can I afford to repay the loan on the due date?
When is the due date?
How much money do I need?
RixLoans' Direct Lender Loans FAQ.
What are the payday loan requirements?
Most payday loan requirements are standard. However, some direct lenders may ask for additional information from you before getting the loan process started. But most will not require more than your name, telephone number, checking account, or date of birth.
How can I apply for a payday loan from RixLoans?
It's easy to apply for these kinds of loans. You only need to fill out an electronic application form or speak with RixLoans' representative over the phone.
How long does it take for RixLoans to send the money?
A direct lender should put your money into your bank account within 24 hours or less! If you do not receive your loan within this time frame, contact RixLoans for further help.
How do I repay my RixLoan loan?
Most payday loan companies give borrowers two weeks to one month to pay them back. RixLoans will automatically deduct the loan amount plus interest from your bank account on the loan's due date. Ensure you have enough money in your account on the due date to avoid incurring late payment fees.
What makes payday loans direct Lenders different from banks?
A typical bank loan requires applicants to go through a hard credit check before approving their loan application. Most direct lenders only perform a soft credit check to determine if you will repay the loan on the due date. This will not affect your credit rating.
Kimberly Chantal Parkes is a former contributor to Rixloans. Kimberly Chantal is a freelance copy editor and writer with a specialization in personal financial planning. After having graduated from Kansas State University with a bachelor's degree in journalism, she began her career in media wearing many hats for community newspapers within the Kansas City area: writer as well as copy editor, photographer and coffee runner among other things.