Combining many high-interest credit cards into a single monthly installment loan with a reduced interest rate. Unsecured signature loans may also be used for big home repair projects, wedding costs, and unanticipated medical emergencies.
What Institutions Provide Signature Loans?
Numerous lenders, including traditional banks, credit unions, and online lenders, provide unsecured loans. Financial institutions offering various types of loans, such as personal loans, secured loans, and auto loans cater to different needs.
One word of caution: Be careful to stay away from high-interest predatory payday lenders and bad credit lending.
What to Look for When Taking Out a Signature Loan?
The expense of taking out any loan is its major drawback. While candidates with less-than-perfect credit records may have fewer options and higher interest rates, borrowers with solid credit history may be eligible for better rates and more acceptable conditions. Consider the loan amounts, repayment period, annual percentage rate (APR), and loan agreement when applying for a loan. Additionally, ensure the lender performs a soft credit check during the loan application process, and choose a loan option that best suits your needs.
Remember to use signature loans for debt consolidation, major life events, unexpected expenses, or major purchases. Always maintain your emergency fund, credit limit, and income ratio when opting for financial products like these. Look for competitive rates on signature loans compared to average credit card interest and card interest rates. Lastly, consider the lack of collateral and plan to pay off high-interest debts effectively.
In rare circumstances, a bad credit history might lead to you receiving a signature loan with an interest rate of 30% or greater. Before applying for a type of loan, carefully review all the conditions, including any fees. Here are a few key points to which you should pay close attention.
In addition to your loan funds balance, the loan interest rate will probably be your biggest expense. Your interest rate, the amount you borrow, and the loan term affect how much interest you pay overall.
Origination fee: Some individual lenders tack on an additional cost when processing a new signature loan amount.
Early payback cost – Also known as a prepayment penalty, certain reputable lenders levy an additional fee if you pay off the monthly installments of the loan before the agreed-upon deadline. When feasible, avoid paying this kind of fee by declining loans that do.
Late payment charge – By making monthly loan payments on time, you may avoid late payment penalties (and their negative impact on your credit card debts and credit reports). Most lenders impose a late payment fee when you make a late monthly payment or if a borrower defaults. Be aware of the average rate and rate for credit cards compared to your personal loan rate before committing to a high-interest loan, like a student loan or debt consolidation loan. Maintaining a good employment history and sufficient income can also help improve your chances with lender to lender dealings.
Building a strong business relationship with your lender, contacting their customer service department if necessary, and discussing your personal qualifications can provide a short-term financial solution. It's essential to keep in mind the legal promise of repayment and avoid any funding delay. Evaluate the loan maximums and the pros and cons of fixed and variable rate loans as you navigate the lending world, especially if you have poor credit or seek a signature personal loan. Knowing the average interest rate and average credit card interest can help you make informed decisions regarding your financial future.
To learn more about any possible fees associated with your signature loan, speak with your lender and carefully read all loan documentation.
Obtaining a Signature Loan in Rixloans: How to Apply?
While applying for a signature loan is often simple and quicker than other types of loans, including quick loans, getting accepted might be difficult, depending on your credit score. You may apply for a signature loan online from various lenders in just a couple of business days. Quick funding is one of the Advantages of signature loans.
Be sure to have your personal information before starting the formal loan application process, including your contact information, Social Security number, and income documentation, such as tax returns. Depending on the lender, a clearance and loan proceeds might take a business day to a few weeks. Most lenders require a credit check signature loan, so prepare your payment history.
In our commitment to providing accessible financial solutions, we are proud to serve customers across a range of American states. Below, you'll find a comprehensive list of states where our company is active, offering our signature loan services to help individuals achieve their financial goals. Whether you're looking for a flexible loan option or personalized financial guidance, our presence in these states reflects our dedication to supporting you on your financial journey.
| | | |
| --- | --- | --- |
| Alabama / AL | Alaska / AK | Arizona / AZ |
| Arkansas / AR | California / CA | Colorado / CO |
| Connecticut / CT | Delaware / DE | District Of Columbia / DC |
| Florida / FL | Georgia / GA | Hawaii / HI |
| Idaho / ID | Illinois / IL | Indiana / IN |
| Iowa / IA | Kansas / KS | Kentucky / KY |
| Louisiana / LA | Maine / ME | Maryland / MD |
| Massachusetts / MA | Michigan / MI | Minnesota / MN |
| Mississippi / MS | Missouri / MO | Montana / MT |
| Nebraska / NE | Nevada / NV | New Hampshire / NH |
| New Jersey / NJ | New Mexico / NM | New York / NY |
| North Carolina / NC | North Dakota / ND | Ohio / OH |
| Oklahoma / OK | Oregon / OR | Pennsylvania / PA |
| Rhode Island / RI | South Carolina / SC | South Dakota / SD |
| Tennessee / TN | Texas / TX | Utah / UT |
| Vermont / VT | Virginia / VA | Washington / WA |
| West Virginia / WV | Wisconsin / WI | Wyoming / WY |
List of American States Where Our Signature Loan Services Are Available
To Sum Up
A signature loan could be an option if you want money and need a temporary fix. But be sure to consider your overall financial circumstances and the reason for your cash flow issues. Signature loan funds can be used for a wide range of purposes, like an improvement project, wedding expenses, or combined debts. The exact limits of signature loan amounts and their loan interest rates might vary, though lenders often offer competitive rates and flexible terms.
Short-term signature loans are a broad term, encompassing many types of loans such as character loans, faith loans, and future loans. The chosen type of loan should be appropriate for your needs and current financial situation. Your promise of repayment is crucial for these loans since they often have a shorter repayment term than, for example, a three-year unsecured personal loan. Consider the rate for signature loans and whether you can make the time payments within the period specified, ideally days after loan approval.
If you live paycheck to paycheck, assess your spending plan and regular monthly expenditures to ensure your money goes toward what you value or need most. Paying off your current debt and managing your daily expenses can help improve your financial situation.
A signature loan can be the right choice, but it can be pricey, especially if your credit is in bad shape. Signature loans are credit Signature loans that do not require collateral. They can offer an affordable loan or maybe costlier loans depending on factors such as your creditworthiness and current loan rates. Candidates for signature loans should consider the pros and cons before making decisions about signature loans. If you decide a signature loan is appropriate, do your research and comparison shop to get the lowest rates and costs. Consider credit union loans like the Credit Human Signature Loan for potentially better rates and terms.
When you need additional funds, weigh your choice of loans and explore a range of loan amounts for your unique situation. You can consolidate your credit card balances with a signature loan from your credit card issuer. This type of card debt consolidation can help you manage your bills on time and improve your overall credit over time.
Suppose you become a potential borrower. Discuss the possibility of automatic loan payments to ensure a timely repayment. Remember that while an affordable signature loan can cover emergency expenses such as unexpected medical expenses, it is essential to be responsible with your borrowing and make timely payments to improve your chances of loan approval. Always explore the available options and become familiar with a bit of loan terminology to make informed decisions about your borrower purchases and access to credit.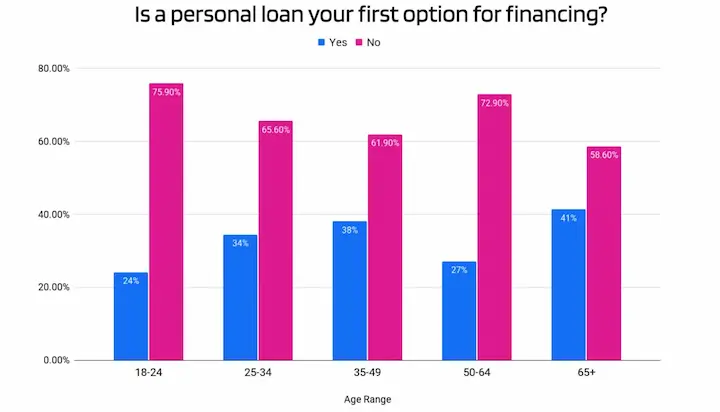 Frequently Asked Questions
What is a signature loan, and how does it differ from other types of loans?
A signature loan relies on the borrower's signature and promise to repay instead of collateral. They often have higher rates than secured loans but require less qualification.
Is a signature loan the same as a personal loan, or are there key differences between the two?
Signature and personal loans are very similar – unsecured installment loans issued based on creditworthiness rather than collateral. The main difference is signature loans typically have higher interest rates.
How does the approval process for a signature loan work, and what criteria do lenders consider?
Lenders review your credit score, income, debts, and repayment ability when approving a signature loan. Good credit and income are key to qualifying and securing the best rates.
What are the typical interest rates and repayment terms associated with signature loans?
Signature loan APRs are often in the range of 10-30% with repayment terms between 1-7 years. Rates and terms depend on creditworthiness and loan amount borrowed.
Can anyone qualify for a signature loan, or are there specific eligibility requirements to meet?
You typically need fair to good credit, stable income, and manageable existing debts to qualify for a signature loan. Each lender has specific underwriting criteria.