North Dakota Payday Loans – Online Cash Advance
Rixloans in North Dakota is a company that specializes in offering money online. We understand that even the most prepared people may face financial difficulties at one point.
If you're facing financial issues, applying for payday loans in North Dakota with RixLoans may be the answer you're seeking.
An online payday loan is the most suitable solution if you require extra help to make it to the next payday. It's easy to get the cash you need by creating an online loan application that's quick, simple, straightforward, and accessible. You don't have to wait around for money!
Get a Payday Loan in North Dakota
If an unexpected incident leaves you low on cash and you need urgent payday loans, Rixloans makes it simple to obtain one. You will avoid the hassles of dealing with banks and other loan providers.
People living in North Dakota can apply online and receive pre-approval within minutes! The entire process takes about a minute and requires just a few facts about your financial status and personal traits. What's the reason to wait?
Apply for a Payday Loan Online at Rixloans
The online loan application requires essential information such as your address, phone number, and date of birth. We also need input on your job title and income.
How To Qualify For Online Payday Loans Within North Dakota?
You must have an active checking account. Bank Account
Proof of regular income ( Monthly salary etc.)
ID
minimum 18 years old
RixLoans have made the application for loans as easy as possible. Once you have completed the application, clients get their loan decision within a few minutes.
Money usually is available on the account on one business day (loan transaction). Same-day funding could also be possible if applied before 10 AM.
Online Document Signatures
Rixloans provide digital Signatures (e-signature) to prove that you have read all the documents governed by specific North Dakota regulations.
North Dakota loan terms, as well as other loan agreements, are accessible on the internet. You do not need to worry about mailing or printing acknowledgments with us. Register online, and you're good to start!
Customers can get their money through Rixloans 's rapid funding program. The instant funding process takes less than one minute to complete and can be up to 30 mins.
The customer's financial institution decides the number of funds available. If customers cannot receive funds immediately, they will receive them on the next business day.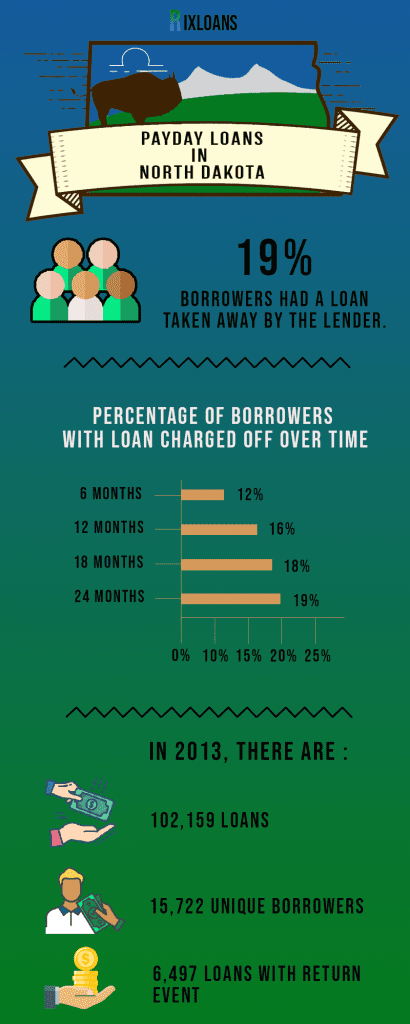 What Are Payday Loans and How Do They Work?
The term "payday loan" refers to the small amount of money paid back in one lump sum after you get your next paycheck. Also, these loans are short-term financial tools.
These loans can cover unexpected costs that arise on paydays and must be dealt with. Imagine that you've just paid your rent or mortgage, which takes up two-thirds of your salary.
Then you fracture your tooth on the following day. It's time to have the tooth repaired. However, you don't have the money to pay the dentist.
Payday loans' maximum loan amounts are typically up to  $500-1000. Some states have limitations on the entire sum of the loans, like in California, $255.
A payday loan can give you the few hundred dollars you require to get your tooth fixed and not have to wait for your next payday.
Payday loans usually have terms between 14 and 30 days. The online application process is fast and easy via rixloans.com. Read the terms and conditions carefully before making commitments.
What you should know before applying using Rixloans
Payday loans pose a greater danger for lending institutions than other borrowing. The annual percentage rate can be up to 500 percent.
If you are a resident or working within Minot or Fargo, our business aims to ensure you can repay the loan (cash advance) you took out on the internet without being overwhelmed by the costs.
Tags:
state of North Dakota
consumer credit
finance charge
credit-reporting
term financial needs only
long-term financial solution
federal law
credit bureaus
state laws